Home

Features

Steve Wiest Interview
---
Steve Wiest Interview
Steve Wiest is currently the Director of Jazz Studies and Trombone at the University of Wisconsin-Whitewater. His duties include directing the top small group and big band, the summer jazz camp , and the spring jazz tour. [The UWW Jazz Camp Website can be found at: http://facstaff.uww.edu/wiests/jazz/jazzcamp.html]. Along with directing, Steve also teaches courses in, jazz pedagogy, jazz history, jazz improvisation, jazz composition/arranging, MIDI and shares the teaching duties in the UWW Trombone Studio. Mr. Wiest is also a clinician in constant demand throughout the U.S. and Canada as a featured artist, director of all state bands, and adjudicator. Recent clinician activities include The Midwest Clinic in Chicago, and The International Association of Jazz Educators Convention in New York. He plays Edwards Trombones exclusively and recently developed the "Excalibur" trombone with Christan Griego. Other performance avenues include a permanent position as trombonist with Doc Severinsen's touring big band, and guest appearances with the Frank Mantooth All Star Jazz Orchestra.
Before coming to Whitewater, Steve spent two years as the Assistant Director of Jazz Studies at The University of Texas at Arlington. Prior to this appointment, Mr. Wiest completed a Masters Degree in Jazz Studies at the University of North Texas. While at UNT, Steve was the lead trombonist and one of the featured arrangers for the UNT 1:00 Lab Band. His composing, arranging, and trombone playing can be heard on the following UNT CDs: "Lab '86", "Lab '87", "Lab '88", " With Respect To Stan", "Live From Australia", "The Best of The 1:00", and "Fifty Years of Jazz at North Texas". Steve also contributed a chart to "Lab 89".

From 1981-1986, Steve was a featured trombonist and one of the arrangers for Maynard Ferguson's Band. While with Maynard, he recorded two CDs: "Storm" and "Live From San Francisco", and one two-volume video: "The Playboy Jazz Festival" [also available in laser-disk format]. Maynard recorded two of Steve's arrangements:"South 21st Shuffle" and "Portuguese Love". Steve's newest work for Maynard is an arrangement of the Cole Porter standard: "I Love You" which will be featured on the band's latest CD.
Mr. Wiest has a number of arrangements and texts published with various companies including Kendor, Doug Beach, Hal Leonard, and The University of Northern Colorado Jazz Press. He is also very busy as a composer with recent commissions coming from the Illinois chapter of The International Association of Jazz Educators, and The University of Northern Colorado. Recently, Steve took some time out of his busy schedule to answer a few questions for the Maynard Ferguson Tribute Page.
Tell us about you. What makes up your musical background?
My first musical memories were my father playing trombone. He played part time on the weekends and had a gorgeous tone. He also was a big Sinatra fan, so Frank's music would occasionally filter into my early environment. I pretty much enjoyed all kinds of music but didn't really participate until I joined my junior high band. I loved the pieces that my school bands played, but I didn't really get "fired up" about practicing until high school. Then, interestingly enough, my band director Gary Cook played a Maynard Ferguson recording for me and that was it! I was in about 10th grade and was attending Blair High School in Hattiesburg Mississippi [where my Mother, Wanda Stegall teaches today]. Mr. Cook did a great job with the band. He was very inspirational and was one of the first of many great teachers that have been so important in my life. Around this time I was also playing and writing for a Chicago-style "garage band" with my good friend Jon Fairbank [great guitarist who now has a successful law practice in Jackson Mississippi]. So between school groups and our own rock bands I began to realize that I wanted to pursue a career in music. I was listening to an interesting mixture of classical and pop at this time, but I really became inspired when I heard J.J. Johnson and began to listen to jazz. Much credit should be given to my mother for putting up with hours upon hours of my practicing J.J. licks in our den!
My undergraduate years were spent at The University of Southern Mississippi. While at USM, I began an association with Raoul Jerome, the great jazz instructor and theory guru at USM [recently, Mr. Jerome has retired from the USM Jazz Department which is now headed up by saxophonist Larry Panella. Larry is continuing the fine tradition begun by Raoul while Mr. Jerome himself is as busy as ever in the field of theory and conducting]. Mr. Jerome is a great teacher who still influences me to this day. T he music program at USM is very good. I was indeed fortunate to receive such a fine education there. During my years at USM, I began to do some writing for big band that gave me enough experience to jump right in and begin learning to write for Maynard.
Who are your musical influences?
I am influenced by all of the musicians that I enjoy, any style! A few of my absolute favorites are: J.J. Johnson, Slide Hampton, Frank Rosolino, Carl Fontana, Miles Davis, Lee Morgan, Dexter Gordon, John Coltrane, Charlie Parker, Duke Ellington, and Clifford Brown. Some of my favorite orchestral trombonists include Jay Friedman, Michael Mulcahy, Charlie Vernon, and Joe Allesi. Of all of my favorite musicians though, I think J.J. has been and continues to be my greatest inspiration. I must also say that I learned a great deal about phrasing, excitement, and musicality in general working with Maynard for over four years. Maynard is an absolute joy.
My influences as a writer are also very eclectic and in a constant state of change. Some of my favorite writers/arrangers include: Slide Hampton, Gil Evans, Jim McNeely, Thad Jones, Neil Slater, Chris Braymen, Denis DiBlasio and Bob Brookmeyer. On the orchestral side of things, I enjoy Aaron Copland, Johannes Brahms, Richard Strauss, Igor Stravinsky, and many modern pieces that I listen to on the radio during long trips in the car without catching the composer's name! I also love the film writing styles of Jerry Goldsmith, Bernard Hermann, John Williams, James Horner, and Alexander Courage. Basically, if it's well written music from the heart that I find intriguing, I am influenced by it..regardless of style or composer.
Some of your favorite jazz albums or artists?
This changes with every passing week, but some of my all time favs are:
John Coltrane: "Ballads"
John Coltrane: "Blue Train"
J.J. Johnson: "Proof Positive"
Miles Davis and Gil Evans: "Porgy and Bess" and "Miles Ahead"
Anything by Art Blakey and the Jazz Messengers!
and recently: "The Carnegie Hall Jazz Band" directed by Jon Faddis
And "Lickety Split": the Music of Jim McNeely [The Vanguard Jazz Band]
I think my favorite jazz piece of all time is Slide Hampton's "Frame For the Blues" written for Maynard's great Birdland Band. The last two CDs that I mention have been huge influences in my big band writing lately. I think that Slide Hampton and Jim McNeely are writing at such a high level right now! Basically, I could list every jazz album that I've ever listened to! So much music, so little time!
The Maynard Ferguson Tribute Page has a survey section where fans can register their opinion. Our 12th question was: "Who was/is your favorite Maynard Ferguson trombonist?" You received 3rd place with 16% of all of the votes. Were you aware of this? How do you feel about this?
Well, I am very much aware of all the great trombonists that have played with Maynard's bands. I am honored to be counted among those who are a part of his musical "family".
It is a thrill to have been voted so high up in the list by your Tribute Page readers! Thanks!
Growing up, were you a fan of Maynard's music?
Absolutely! As I mentioned earlier, Maynard was one of the first jazz artists that I ever heard. I was very much into his music when I got the call to join his band. When they sent the book to me to practice for the tour, I just stared at the hand-written charts in awe as I realized that this was the actual music from the albums that I had been listening to all those years. Two of my favorite charts were "I Can't Get Started" and "Give It One". I think I all but passed out from excitement when I actually got to play these charts with the band. My first rehearsal with the group was in Chicago at the Hilton. I will never forget walking up the steps to the rehearsal room and watching Maynard shaking the hands of the bandmembers, welcoming back the veterans and officially meeting the new guys. I'm surprised that I had the presence of mind to say anything at all when I first met him, such was my admiration and awe. To Maynard's credit, though, he put me at ease instantly and I've felt like family ever since.
How long were you with Maynard and his band?
I stayed with the band from the summer of 1981 to the summer of 1985, a little over 4 years. This is longer than many of the guys stayed out on the road. Some of his musicians stayed out longer and many [most] stayed for only about 1 ½ years. I think I stayed longer because I had more to learn!
How did you get on the band?
I got on the band through a series of very fortunate events. You've probably heard it said that "it's who you know in the music business", well I believe that you must have a desirable package as a complete musician coupled with a good personality to offer that magic person or persons when the time comes. Due to my education, practice habits, and family ties I had the right stuff at the right time for the right person! After graduating from the University of Southern Mississippi, I moved to Chicago where I had family in the music business and where there was more opportunity on a national scale. I spent about a year meeting people in the Chicago area and playing with every band that would have me. I made many connections and friends that are still important today. My most influential contact at the time, though, was my cousin Nick Drozdoff. Nick is a fantastic trumpet artist who works a great deal in the Chicago area. At the time that I moved there in 1980, Nick got the call to join Maynard's band for their winter/spring tour of Europe. He suggested me to the manager when an opening came up. I sent in an audition tape that I had made earlier and got the call! Actually, I wouldn't have gotten the call if Chicago trombonist Scott Bentall hadn't turned it down first. Scott is a great player and great friend, I will always be glad that he had a great job at the time Maynard came calling!
Which Maynard albums did you record on?
I recorded on "Storm" and "Live From San Francisco" both of which have been recently re-released in CD form. I also recorded a number of videos with the group; the highest profile one being the 1982 Playboy Jazz Festival laser disk, which was released in video as a two volume set.
How was playing with Maynard's band different from other gigs?
Well, for one, the instrumentation in 1981 of 4 trumpets, two trombones and three saxophones made for a very different sound from the standard big band set up. It was a challenge to write for and like any challenge a great learning situation. Also, there is the basic attitude of the band that comes from Maynard himself. The band is all about having fun, enjoying life! Maynard doesn't play a note that he doesn't enjoy, and he demands the same from his musicians. One of the things that most people comment on after seeing a Maynard concert is the bowing and handshaking "ritual" that happens at every introduction and at the beginning and end of every solo. That is just one bit of visual evidence of the feeling of joy and camaraderie that the band is all about. Maynard strives constantly to let his musicians express themselves while at the same time keeping the musical environment loose and full of change. Not many bandleaders have enough confidence in themselves to do that. By treating the musicians with respect Maynard gets the most out of them.
What Maynard song did you most enjoy playing during the time you spent with the band?
Well, because of the attitude of the band, literally every tune was fun to play. Also, Maynard's presence made every piece of music special. I did enjoy some pieces more than others, however. I had a special place in my heart for all of the pieces that I had first learned listening to on albums, that was always a treat! I really enjoyed playing with Maynard as he soared over the top of a shout chorus like the one in "I Can't Get Started".
And of course, I found a special joy in playing something that I wrote! I still get a thrill out of hearing Maynard play something that I wrote or arranged, what an honor!
Do you have a favorite solo from the albums you recorded with Maynard?
While I'm very proud of my recorded work with Maynard, as a life-long student of jazz improvisation, I really try to stay away from listening to my own solos. They are great snapshots of where I was at that time, but I've learned so much since then. I like to record myself as I practice to analyze where I can improve, but beyond pride and nostalgia I don't have a favorite recorded moment.
Do you have a favorite story from playing with the band?
There are SO many fun stories that I can think of! Everything from some of the outrageous things we did on stage, great clinic moments, special times that involved guest artists to some the late night "hangs" at the front of the bus listening to Maynard tell stories about famous jazz artists. I could also relate stories concerning the great education that I received from bandmates Chris Braymen, Denis DiBlasio, Tim Ries, Matt Harris and others in the areas of improvisation and writing.
I guess if I were to relate one story, though, it would have to be when Maynard played as a featured artist in the tribute for Miles Davis that was put together at Radio City Music Hall in 1983. This was right around the time that Miles had come out of retirement and started his 1980's style of fusion with the great Stern/Foster/Evans entourage. A big tribute to Miles was planned in New York at Radio City Music Hall that would feature a "who's-who" of the jazz world all performing for Miles. At the end of the concert Miles himself would play with his new band. Slide Hampton had been commissioned to write a piece for an all-star trumpet section that included Maynard. The management only gave the band a couple of tickets, so they had to be raffled off. I was lucky enough to receive one of those coveted tickets! The only problem was that everyone in attendance had to wear a tux! Who brings a tux on the road with Maynard? So I had to get creative. I had black pants, socks and shoes as part of the road uniform that we were wearing at the time and miraculously found that I had packed an old tux shirt by mistake! [it was a classic off-white 1970's big ruffle tux shirt deluxe!] so, I completed my "state-of-the-art" tux with a giant bow tie that I borrowed from a waiter at a restaurant next door to Radio City and a dark navy p-coat that I had also packed. Needless to say, I didn't blend in too well with the upper crust jazz elite that attended the concert, but I had a great time. I remember being backstage and writing down the names of all the famous people that I was associating with. Basically 90% of my heroes in jazz were warming up and hanging out backstage… a dream come true! After awhile we went out front to get a different perspective on the music. When it came time for the big trumpet piece arranged by Slide, we all waited to see how our "Daddy" Maynard would do. The featured trumpets that night included Randy Brecker, Art Farmer, Lou Soloff and Jon Faddis! However, Maynard absolutely brought the house down when he came out. All of the all-stars were just as impressed as the audience! It was a great musical moment, one of the many that I have that contribute to my pride at being part of the Maynard tradition.
Let's look to the future. Currently you are teaching at the University of Wisconsin-Whitewater. What is that like? What are your plans for the future?
I am really enjoying teaching here at UW-Whitewater. I have a very supportive administration to work with which makes my job wonderful. We have some very talented students here that I enjoy showcasing as much as possible. We just released a CD that includes a live track from our 1996 Montreux Festival engagement as well as a track with Ernie Watts when he performed with us in February of this year. I also enjoy putting together our jazz camp each year. The camp faculty includes a number of MF alum such as Glenn Kostur, Craig Johnson, Matt Ingman, and Allen Johnson.
I try to incorporate as much of the Maynard Ferguson attitude towards music as I can into my own teaching and my dealings with the students. I bring in a number of guest artists throughout the year so that my students can get a taste of working with musicians who are at the top of their game. In so doing, I hope that I can pass on some of the inspiration and love for the artform of jazz that Maynard gave to me.
I have also had the honor of bringing Maynard and the band to Whitewater twice since I've been here. The first time in 1996 was when we were raising funds for our tour of Europe. The guys in Maynard's band sat in with my top group at a big fundraiser that we were doing and knocked everyone out! The second time that I brought the group here was this summer. The band began their tour here in Whitewater. I really enjoyed watching my students check out the rehearsals as Maynard got the group ready to go on tour. I also got to hear some of the new album that is due out in September. It sounded great! What a thrill to have MF and the band here and to share some of that with my students!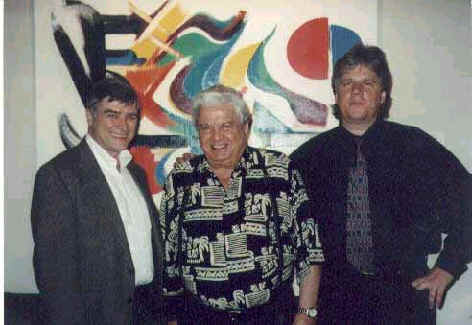 Left to Right: Dr. John Heyer: Dean of the College of Arts and Comunications at UW-Whitewater, Maynard, Steve Wiest [prior to Maynard's performance at the University of Wisconsin-Whitewater On June 20, 1998.]
I am also enjoying my association with Doc Severinsen. I have been touring with Doc and his big band now for about four years. The band includes many of the illustrious members of the old Tonight Show Band: Conte Condoli, Snooky Young, Ernie Watts, Ernie Tack, and Ed Shaughnessy to name a few. As you can imagine, it is an education every night!
Much of my time is taken up with conducting clinics and workshops around the country as well as directing all-state groups. I find this kind of educational experience to be very rewarding and I look forward to much more in the future.
As far as future plans go, I am putting together some ideas for a solo CD project that should come together in a year or two. I will keep you informed.
Thanks again, Steve for taking the time to answer these questions. I'm sure the visitors to this site will enjoy the answers as much as I have.
My pleasure Matt! I appreciate the fine work you do with this Website, and I thank you for asking me to share some thoughts!
Contact Info
Steve Wiest
trombonist/composer/educator
Clinician for United Musical Instruments
Director of Jazz Studies and Trombone
The University of Wisconsin-Whitewater
Office Phone and Fax: (262) 472-4655
Fax: (262)472-2808
E-Mail: wiests@mail.uww.edu